Since 1990 the SCRIP program has been the largest fundraiser at St. Anthony's Catholic School. We rely on our SCRIP program to help keep tuition costs down for all of our families. The school benefits from rebates merchants offer on their goods - you incur NO cost when you buy SCRIP. Each time you buy SCRIP your purchase is credited directly to your SAS SCRIP account.

Example of how SCRIP works:
Purchase $25 Kohls card @ 5% you earn $1.25 profit
Purchase $10 In-N-Out Burger card @ 20% you earn $2.00 profit
Total profit posted to your SCRIP account for this purchase is $3.25

A profit obligation of $225 per family is included in your annual tuition amount. All SCRIP profit earned will be credited to your tuition account balance for the following school year. The SCRIP accounting year is from May 1 to April 30 each year. We are open for purchases during the summer.

For more information you may contact the Scrip department.

RaiseRight
If you choose to purchase scrip online, you may sign up with RaiseRight. Please take some time to familiarize yourself with their website, RaiseRight.com. Additionally, RaiseRight has a mobile app that you can use to make scrip purchases while at a retail store. From there you can create your own account to begin purchasing online or through the app . Please call the scrip office to obtain our unique school code. Once we have verified you are a family at SAS, we will approve your account, send you a confirmation email and you will be ready to purchase. This is done to prevent fraudulent purchases by families not affiliated with SAS.
​
RaiseRight has recently made changes, I strongly suggest to sit down when you have a few minutes of quiet time and read through the information. The sign up process is easy but will take a few days as your account will have to be verified. Scrip has zero access to your personal information and account. Profit earned through your online purchases are reported to us on a monthly basis and will be posted to your SAS scrip account. There is a fee to purchase with a credit card and a $0.15 transaction fee to purchase with a debit card. Lastly, because cards are immediately available, if there are insufficient funds in your bank account to cover your purchases, there is a $30 insufficient funds fee as well as the purchase amount which will be due to SAS as we will be held responsible for your purchases. Scrip reserves the right to suspend accounts if needed.
Please note ALL physical cards must be purchased in the scrip office. The school does not accept payments through RaiseRight! If you make a purchase with RaiseRight you will pay them directly. If you make a purchase in the scrip office payment will be collected in the scrip office.
Scrip Order Form
Scrip Hours:
The SCRIP office is now open -
Monday thru Friday mornings 8:00-9:00.
Orders can still be placed in advance and picked up in the office.

Summer Hours - 9:00-12:00 Daily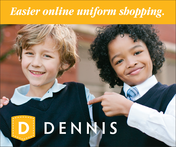 You can use your SCRIP online to purchase uniforms from Dennis. Just click on the picture to be taken to the St. Anthony School uniform store.